PUSHSTART IS A GAP FILLER.
Run by Kim Heras of 25Fifteen and Roger Kermode of HP, PushStart is
a community-first organisation that starts, grows, then shuts down services
based on gaps between services available and the needs of startup founders in Australia.
By filling the gaps we often become the glue between networks, bringing disparate
groups of people together to help them make their own connections.
Our goal is the creation of an ongoing sustainable ecosystem for entrepreneurs who choose to live in Australia.
Where a gap in offerings to the community is identified we seek to fill it.
We run those products and services until there is either no more need or until another organisation provides that product / service in a way that also serves the community and is more sustainable.
At that point we shut down our offering and move to support the new organisation.
Sustainability for the organisations that replace us often involves some sort of commercial focus. We are comfortable with that.
Feature 1

Feature 2

Feature 3

Feature 4

Feature 5

Feature 6
EXAMPLES OF SERVICES WE NO LONGER RUN AND ORGANISATIONS WE SUPPORT, THAT DO
We no longer run educational events. Instead we are a strong supporter of General Assembly and their professional startup related educational activities
PushStart's Mentor Connect, our online startup/mentor matching service, has now been moved to Aussie startup Wahuna.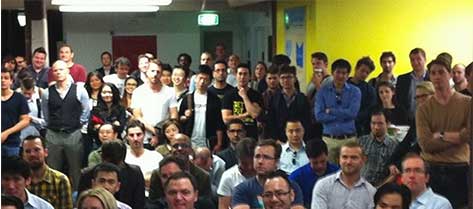 PushStart has run many events since 2010.
Check out some of them here.